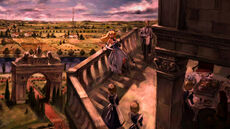 The Vance County(ヴァンス伯爵領) is an area ruled over by Count Vance. It houses the Vance Castle, which sits in the middle of a lake, and one long bridge leading outwards to the rest of the land. The land has its own border, which is erected eastward, as that is the only direction most enemies would attack because westward, a large mountain rests behind the castle. The Vance County is known for its powerful army and warriors, and its leader, Count Vance, who seeks to disrupt the Queen's Blade tournament.
People from this Region
Edit
Nearby Regions
Edit
The Great Wall Border surrounds the eastern edge of the county.
Sheldan Free City to the East.
Gemstone Mountain and Iron Mountain to the South.
Vance's Royal Guard
Edit
The Vance's Royal Guard(ヴァンス伯爵軍) are a group of soldiers who guard the area in and around the Vance County.
Count Vance (Current)
Claudette Vance (General)
Elina Vance (Temporarily)
Appearance
Edit
The armor they wear is black, with the breastplate open in the front. Each soldier wears white clothing underneath their armor, usually long, and open.
Abilities
Edit
The soldiers themselves are capable of fending off most fights, and are usually used for being territorial guards, unless issued for wartime.
Vance County Gallery
Edit
Royal Guard Gallery
Edit
Ad blocker interference detected!
Wikia is a free-to-use site that makes money from advertising. We have a modified experience for viewers using ad blockers

Wikia is not accessible if you've made further modifications. Remove the custom ad blocker rule(s) and the page will load as expected.