Tino

Tino as illustrated by Muraneko.

Ghost Dragon Demon
Profile
Gender
Female
Race
Half-Human/Half-Dragon
Occupation
Gal Monster
Likes
Grilled meat, whack-a-mole
Dislikes
Violent people, people with photophobia
Hobby
Monologuing
Appearance
Hair Color
Black
Eye Color
Yellow
Height
140cm (Approx 4'7")
Bust
70 (28")
Waist
56 (23")
Hip
72 (29")
"P-Please go easy on me..."
Tino is one of the ten capturable Gal Monsters in the Queen's Gate: Spiral Chaos video game.
Appearance
Edit
Tino wears a short blue dress, with light blue going down the middle with a long blue and white cape and a light brown tail, white sleeves with small bladed gloves, and white thigh-highs with grey and blue shoes.
Personality
Edit
Tino's a bashful girl... basically, she's cowering all the time. A carnivore-like girl with a weak mind. She's a little worried about the shine on her forehead. She usually gets bullied by the herbivore-like Cerate. Though, her carnivore-like blood hidden deep inside her comes up sometimes? She's always disappearing and appearing again.
Abilities
Edit
Tino is very strong, being able to wield a hammer twice her size, which has a built in mechanism that gives it more power when she strikes. She can also transform into a giant dragon and attack with incredible strength.
She's voiced by Noriko Aoki.
Other monsters like her are the "Rex" Ral (green) and the "Tiggel" Runa (red).
Her dislikes list "people with photophobia ", this might be related to her worry about her light-reflecting forehead (and people complaining about it).
Freetalks
Edit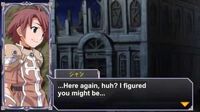 Ad blocker interference detected!
Wikia is a free-to-use site that makes money from advertising. We have a modified experience for viewers using ad blockers

Wikia is not accessible if you've made further modifications. Remove the custom ad blocker rule(s) and the page will load as expected.