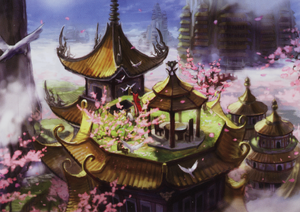 Shai-Fang(シャイファン) is a landlocked country to the north of the continent. It is surrounded by high mountains and a harsh climate, making it an isolated region. The people there live under the auspices of the "Goshintai" - the sacred vessel of the living god, who directs their nation.
Shai-Fang became a warm and peaceful paradise because of the mysterious divine protection from the Goshintai, but recently it has been stolen.
According to the legends in Shai-Fang, when slaves from Amara and other countries escaped 4000 years ago to take refuge in the northern mountains, a certain Mountain Hermit granted upon them the Child of the Dragon, and Shai-Fang was formed.
People from this region
Edit
Nearby regions
Edit
Swamplands to the south.
Little Elf Forest to the southeast.
Vance County to the southwest.
In the Queen's Blade: Rebellion anime, a Shai-Fang custom is that you are not indebted to someone unless they have saved you three times. Once they do, however, the bond forged is closer than that of family.
Ad blocker interference detected!
Wikia is a free-to-use site that makes money from advertising. We have a modified experience for viewers using ad blockers

Wikia is not accessible if you've made further modifications. Remove the custom ad blocker rule(s) and the page will load as expected.