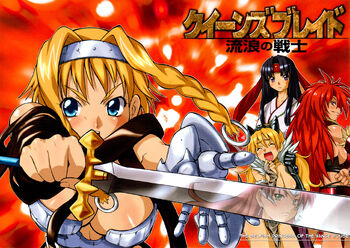 Queen's Blade: Exiled Warrior (クイーンズブレイド-流浪の戦士-) is an adaptation of the Queen's Blade anime centered on Leina Vance. Illustrated by Kabao Kikawa, the manga began serialization in the October 2008 issue of Media Factory's magazine Monthly Comic Alive. Three volumes were later released between February 2, 2009 and January 23, 2010 under Media Factory's Alive Comics imprint.
Chapter 1: The Selfish Princess of the Vance House
Chapter 2: The Protean Assassin
Chapter 3: The Exiled Warrior
Chapter 4: Hinomoto's Warrior Priestess
Chapter 5: The Witch's Secret Plan
Chapter 6: Melona's Rampage
Chapter 7: The Officer's Schemes
Chapter 8: The Veteran Mercenary
Chapter 9: The Travelling Blacksmith from the Iron Mountain
Chapter 10: The Queen's Capital
Chapter 11: Leina's Resolve
Chapter 12: Prelude to Battle
Chapter 13: The Burden They Bear
Chapter EX: Menace's Authority
Chapter 14: The Fake Tomoe
Chapter 15: Sisterly Bonds
Chapter 16: End of the Battle
Ad blocker interference detected!
Wikia is a free-to-use site that makes money from advertising. We have a modified experience for viewers using ad blockers

Wikia is not accessible if you've made further modifications. Remove the custom ad blocker rule(s) and the page will load as expected.