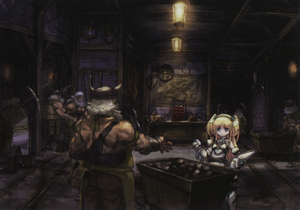 Gemstone Mountain(宝石山) is a dwarven kingdom, known for being a rich source of precious minerals, including the "Dragon's Eye" gems. After Cyan invented the new "Magic Stone" technology, it was discovered that these gems had the most affinity as raw materials to create them, and Queen Claudette quickly established trade with this mountain, developing the entire Continent's economy and technology in the process.
People from this region
Edit
Nearby Regions
Edit
Iron Mountain to the East.
Vance County to the North.
Eilin is the princess of Gemstone Mountain. Since she is the cousin of Ymir, the princess of Iron Mountain, the two kingdoms are ruled by siblings.
Ad blocker interference detected!
Wikia is a free-to-use site that makes money from advertising. We have a modified experience for viewers using ad blockers

Wikia is not accessible if you've made further modifications. Remove the custom ad blocker rule(s) and the page will load as expected.