Charlotte

Charlotte as illustrated by Keiji Gotoh.

Fairy
Profile
Gender
Female
Race
Fairy
Occupation
Gal Monster
Likes
Strawberries, cherries
Dislikes
Insect cages (she got caught in one long ago...)
Hobby
Singing, flying in the sky, playing pranks on giants (humans)
Appearance
Hair Color
Brown
Eye Color
Green
Height
30cm (Approx 1'0)
Bust
15 (6")
Waist
10 (4")
Hip
16 (6")
"Why you! Don't look down on me from up there!"
Charlotte is one of the ten capturable Gal Monsters in the Queen's Gate: Spiral Chaos video game.
Appearance
Edit
Charlotte has a big pink bow and two orange attachments in her hair. She wears a pink dress with six teal wings on her back, with white frills, and white thigh-highs with a pink bow-tie design and brown shoes.
Personality
Edit
Charlotte hates humans. She's basically absent-minded, but she works hard to become a Fairy Idol. It's not that she's small, her surroundings are just too big. She blasts the people she isn't pleased with using a hand grenade that looks like a mike. "Huh~? Won't you catch a cold if you sleep here? ...Oh my, you died from my explosive trap?" "Er~, can you listen to my song~?!!"
Abilities
Edit
She can control the elements of fire, wind, and water, and can combine them together for an extremely powerful beam. She can also call other fairies to channel a giant beam down upon her opponents. She can also use several explosives, and can shrink herself and control another person's body.
She is voiced by Hiromi Igarashi.
Her monster class is "Fairy". Other monsters like her are the "Twinkle" May (yellow) and the "Pixie" Emily (blue).
Freetalks
Edit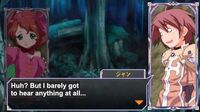 Ad blocker interference detected!
Wikia is a free-to-use site that makes money from advertising. We have a modified experience for viewers using ad blockers

Wikia is not accessible if you've made further modifications. Remove the custom ad blocker rule(s) and the page will load as expected.